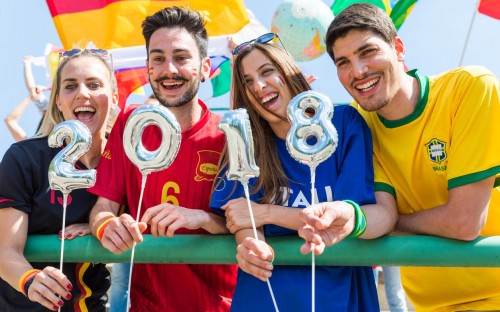 Thursday marks the inaugural game of the 2018 FIFA World Cup between Russia and Saudi Arabia. While most will tune in for the dizzying highs and searing lows that have defined the quadrennial celebration of soccer, the World Cup has proven to be a one of few international sporting events that attracts huge audiences and the advertising revenues to match.
As the global presence of sports leagues such as the English Premier League and the National Basketball Association continue to expand, right now couldn't be a more opportune moment for b-schoolers-to-be and graduates alike to explore careers in the sports industry.
With that in mind, we investigated 10 MBA programs that can help people get on the right track to careers in the business of sports.
---
Here's 10 of the best sports MBA programs that you need to know about:
---
1. University of Liverpool Management School
The University of Liverpool Management School offers an elite education to its MBA students. It is also the only school that offers a program that focuses specifically on football industries. In the program, students learn all the skills necessary to run a successful football club, from observing the law to gaining sponsorships. The program's location in a city with many football clubs of varying sizes provides students with the ability to put their training into practice.
---
2. Hofstra University – Zarb School of Business
Hofstra's Zarb School prepares students for management careers in the sports and entertainment arenas. Students receive a well-balanced core knowledge that is complemented with courses on sports management, marketing, and law. Hofstra's proximity to US sports mecca New York City provides students with many opportunities to apply their knowledge to real-world situations.
---
3. University of Colorado Denver Business School
At CU Denver, students gain comprehensive knowledge of the management skills necessary to succeed in sports. In terms of practical experience, Denver and its environs offer eight professional teams that students can learn from– the Broncos, the Rockies, the Avalanche, the Nuggets, the Rapids (Soccer), Mammoth and Outlaws (Lacrosse), and the Glendale Raptors (Rugby). In addition to nearby resources, CU offers students the ability to travel to London, where they can learn from executives who run major sports organizations like the Chelsea Football Club.
---
4. EU Business School
One of the most appealing aspects of the EU Business School is its flexibility. For one, students can choose to study at its Barcelona, Montreux, or Geneva campus. This allows students to choose the campus best suited to their goals. For example, by studying at Barcelona, students can access the resources that sporting clubs such as FC Barcelona offer. The year-long program is also one of the shortest on this list.
---
5. Fisher College of Business – The Ohio State University
One of the newest programs on our list, Fisher prepares students for careers in sports management by giving them the skills to manage facilities and market teams effectively. As one of the major cities in the Midwest, Columbus offers Fisher students many platforms to apply and transform their theoretical knowledge.
---
6. Stillman School of Business – Seton Hall University 
Much like Hofstra, the Stillman MBA program allows students to prepare for a career in sports management by providing access to the many sports organizations located in New York City. One feature that sets the Stillman program apart from others is that students are required to take courses outside of the specialization, even during the second year. All of the knowledge gained in the program is applied during the capstone consulting course.
---
7. University of Oregon – Lundquist College of Business
It is natural that there is a sports MBA program at the school where Bill Bowerman and Phil Knight created the global brand of Nike. Unlike a number of the schools listed here, Oregon's MBA integrates sports management courses throughout the two years in addition to trips to West Coast locales, the East Coast, and Asia. In addition to the sports marketing MBA, Oregon offers a sports product MS; the only one of its kind.
---
8. Isenberg School of Management – University of Massachusetts Amherst
The Isenberg school offers students a dual MBA/MS sports management program. The dual degree allows students to put a greater focus on sports in their MBA education. Isenberg students finish their studies by completing a semester-long consulting project. The school's longstanding relationship with various organizations throughout New England provides students with many locations to apply their knowledge.
---
9. Escuela Universitaria Real Madrid
One of the elite sports management programs in Europe, Escuela Universitaria Real Madrid offers its students a comprehensive knowledge of sports management. This is done through classroom education as well as through trips to various sporting locations in Madrid and New York. In addition to these visits, students have access to the many resources available at Real Madrid, an elite Spanish sporting club best known for its soccer team.
---
10. San Diego State University – Fowler College of Business
San Diego State University offers an accelerated sports management MBA program for students, which takes only 18 months to complete. In this time, students learn everything they need to succeed while also gaining experience by working for one of the many professional sports organizations located in Southern California.
["Source-businessbecause"]