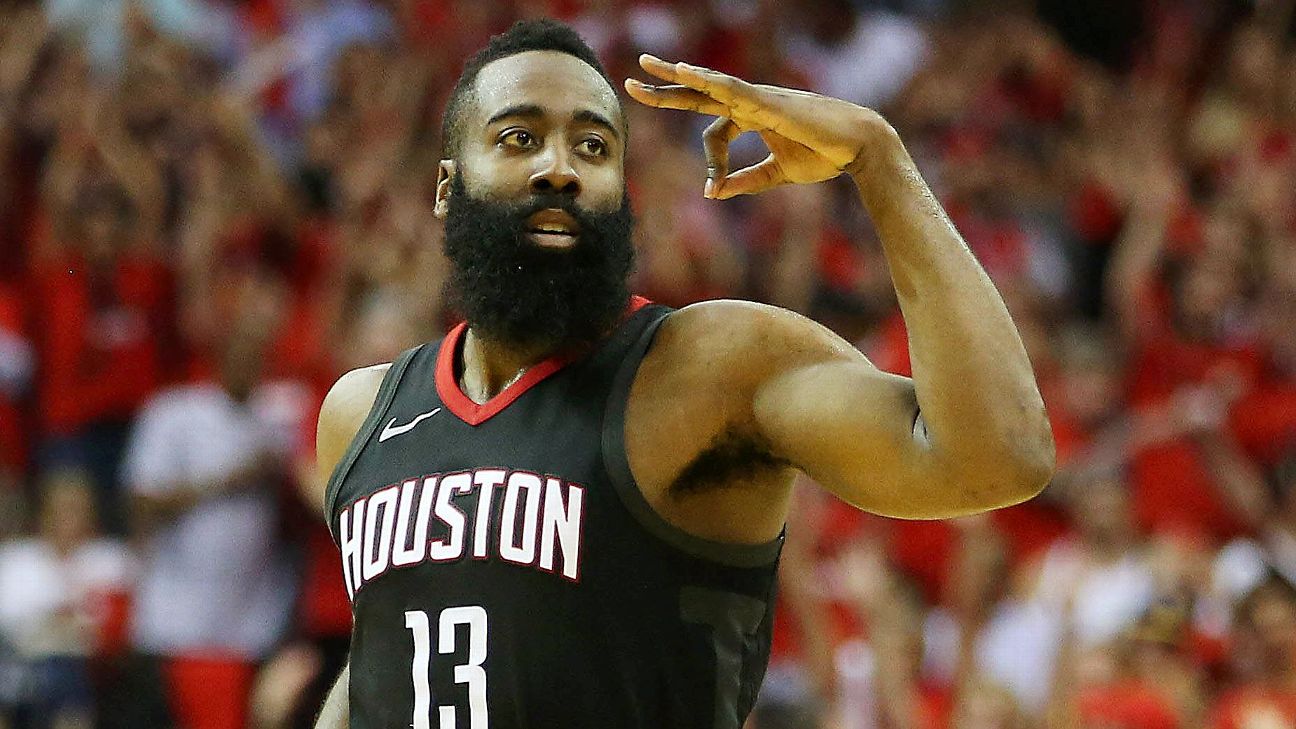 SANTA MONICA, Calif. — After believing he should've won Most Valuable Player last year but coming away empty-handed, James Harden chose not to prepare a speech in case he did not win MVP on Monday night.
So when the Houston Rockets guard capped off a spectacular season by walking away from the NBA Awards show with the game's top individual honor, Harden was almost speechless at first.
"Wow. All glory to God man. All glory to God. Wow," Harden said before rambling on like a stunned actor or actress delivering a surprise Oscar winning speech.
As Harden explained, the prolific-scoring guard felt like he had been in this position before only to fall short. That certainly was the feeling he felt last year when he finished second to Oklahoma City's Russell Westbrookin the MVP voting.
"The last four years have been like knocking on the door, knocking on the door," Harden said. "Now the moment is finally here. Just every single year, you try to come back and be better than you were the year before, and just to be holding that trophy finally, it means a lot. But it doesn't stop here. We've got a long way to go. But it feels good to have it though."
"Honestly, because I didn't know," Harden added of why he didn't have any speech prepared. "You know, I felt like last year I should have won as well, so I didn't see a difference between last year and this year. If I won it, then I was going to go off the top and try to, you know, show my appreciation to everybody helping me along the way. Give respect and pay my dues."
Harden held off Cleveland's LeBron James, who was denied his fifth MVP trophy despite averaging 27.5 points and career-highs of 9.1 assists and 8.6 rebounds while playing in all 82 games in a regular season for the first time in his career.
Harden also beat out New Orleans' Anthony Davis to become the third Rocket to win the award and first since Hakeem Olajuwon in 1993-94. Davis exploded after teammate DeMarcus Cousins went down with an Achilles injury, averaging 30.2 points, 11.9 rebounds, 3.2 blocks and 2.0 steals after Jan. 28.
Harden, though, was the league's scoring champ, averaging 30.4 points while leading the Rockets to a franchise-record 65 victories. Harden was the fourth player to average at least 30 points per game and help lead his team to 65 wins, joining Stephen Curry, Michael Jordan (twice) and Kareem Abdul-Jabbar, according to ESPN Stats & Info.
Rockets GM Daryl Morey, who won Executive of the Year, and teammate Chris Paul attended Harden's news conference with reporters. Paul even asked a question in jest about how Harden was going to celebrate the award afterward. Making the night even sweeter was the fact that he won his first MVP near his hometown of Los Angeles.
On Sunday, Harden hosted 1,900 kids and adults at an Adidas block party at Audubon Middle School where he attended school. Harden's shoe company named the block party "Imma be a star." While in school, Harden wrote a note to his mother, Monja Willis, that included that message.
"I'm not going to get emotional but she is my backbone, good times, bad times," Harden said of his mother while accepting the award. "… Sixth Man of the Year [in 2011-12] to the MVP.
"Shout out to all the [young players]. They got a dream. There is a vision out there. Go chase that dream. … I'll see y'all next year!"
["Source-espn"]