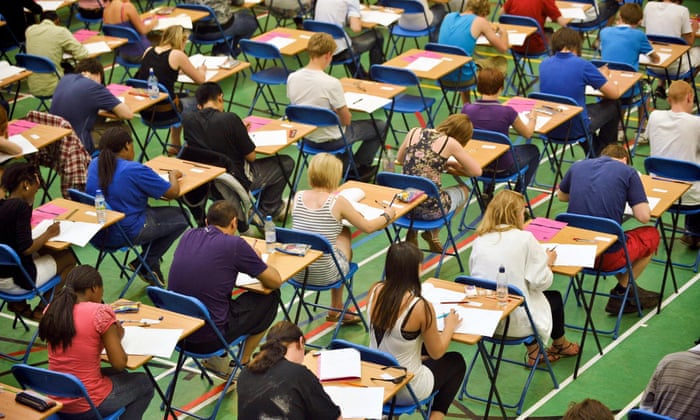 An examination board investigating allegations of leaks has been forced to make last-minute changes to two A-level papers that were taken on Monday after another apparent breach of security.
Pearson, which owns the Edexcel exam board, said it had replaced questions in its statistics and further pure maths papers after the board was informed that some students "had information they should not have had".
The leak appears to have been localised, as changes were made to papers being sat at what was described as "a small number" of schools and colleges. Students affected were given an extra sheet of replacement questions at the start of the exam. Pupils and their teachers will be concerned because it follows two previous incidents of alleged leaking from A-level papers last week that are still under investigation.
Teachers' leaders expressed their dismay after yet another setback in the summer exams. As well as allegations of leaks, there have been complaints about errors in GCSE and A-level papers issued by the OCR and AQA exam boards.
Mary Bousted, general secretary of the Association of Teachers and Lecturers, said: "The reputation of exam boards relies on the security and effective administration of exam papers. But this summer's exams have been plagued with questions leaking, unanswerable questions and essential information missing from exam papers. Students, parents and teachers are likely to be distressed by these failings and lose confidence in the exam system."
Geoff Barton, general secretary of the Association of School and College Leaders, added: "We expect more of the examination boards, whose reputation rests in their ability to design and check exam papers, and then to guarantee their security. Schools and colleges pay thousands of pounds each year for this service."
The two papers affected on Monday were statistics 2, which has more than 19,000 entrants, and further pure maths 3, which has almost 6,000. It is unclear exactly how many students sat the amended papers.
Pearson was forced to launch an investigation into allegations of leaks of Edexcel C4 A-level maths papers on Friday, and before that of Edexcel's economics A-levelon June 19. About 60,000 students sat the two exams.
A Pearson spokeswoman said: "We made the decision to replace some questions in two of this afternoon's examinations in the small number of schools and colleges where we'd heard allegations that some students had information they should not have had.
"We are continuing to investigate the allegations of exam malpractice, which we are taking extremely seriously. We would like to thank those individuals who have already come forward with information and they can rest assured that we will take every action necessary to ensure the integrity of these examinations and that all students will be marked fairly."
The replacement questions had been developed for use in a future exam, said Pearson. Each student in the affected schools and colleges was provided with printed copies of the replacement questions at the start of the exam.
"Students who sat these questions can have every confidence that they will be assessed at the same standard as all other students taking this examination," the spokeswoman said.
The exam watchdog, Ofqual, urged anyone with any information about alleged leaks to contact it or Pearson. A spokesman said: "We are continuing to work with Pearson as it investigates and responds to the allegations of exam malpractice or wrongdoing involving its qualifications. We recognise the concerns of students and parents, and are absolutely committed to maintaining public confidence in these qualifications. Students should continue to prepare for their forthcoming exams as normal."
Barton praised Edexcel for acting swiftly. "In this instance, it sounds as if there were a local breach of confidentiality, and all credit to Edexcel for being able to respond so quickly with new papers.
"Once the examination season ends, ASCL will support exams regulator Sally Collier in reviewing this year's various issues. There must be guarantees that lessons will be learned."
[Source:- theguardian]