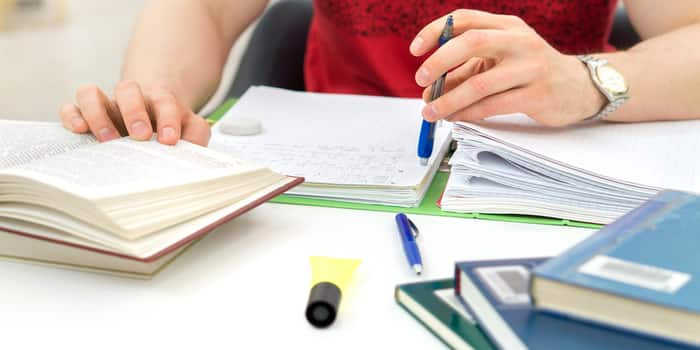 The Joint Entrance Exam (JEE) and the National Eligibility Cum Entrance Test (NEET) are competitive exams conducted by the National Testing Agency (NTA). A high JEE Main score can increase your chances of getting into a top engineering institute, while more NEET marks can help you secure a seat in one of India's top medical colleges.
In India, students from ICSE, CBSE and several state boards appear for these exams to secure admission in a reputed college. However, if being a student from a state board is bothering you, don't worry.
Just because your syllabus differs from the NCERT syllabus followed by CBSE students, it doesn't mean you cannot compete well in JEE 2021 or NEET 2021. Study materials such as JEE Main sample papers, NEET notes and other important learning materials are within your reach. So, let's look at some of the highly effective IIT-JEE and NEET preparatory resources for state board students.
Before we begin with the preparatory resources, here's a tip to overcome the syllabus dilemma for state board students:
If you check the topics in the JEE Main syllabus and NEET syllabus, you'll find that most topics have already been covered in your state board syllabus. Mark the topics which are not present in your state board syllabus to set aside the list of extra topics that you need to study for these exams.
Clear concepts from your state board books and go through the extra topics in the NCERT textbooks.
Another thing to note is that you may find extra topics in JEE Main Chemistry. For JEE Main Maths and JEE Main Physics, the topics are part of your state board syllabus.
Be careful not to study the same topics from various textbooks because you may end up getting confused or laidback. Instead, just follow NCERT solutions to practise the different types of problems related to concepts which are part of the extra topics. In this way, you can prepare for these exams without worrying about syllabus topics.
Some of the top JEE Main and NEET preparatory resources for state board students are listed below:
1. JEE Main and NEET Topic Notes
For JEE or NEET, you can easily get study notes, chapter summaries and revision notes for Physics, Chemistry (Maths for JEE) and (Biology for NEET) through online learning portals such as TopperLearning. Follow the golden proverb 'Practice makes perfect' and reap the benefits of practising questions and answers.
If you prefer self-study, you can first go through topics by watching our online video lectures. But soon after, also go through our chapter-wise JEE notes and study each topic in detail. At TopperLearning, you can directly go to a chapter in Physics or Maths and get the relevant learning materials.
2. NCERT Solutions for JEE Main 2021
For ambitious students, NCERT solutions are invaluable during preparation for IIT-JEE and NEET. You can revise JEE topics with chapter-wise NCERT solutions for Physics, Chemistry and Mathematics. At TopperLearning, subject experts prepare accurate solutions for questions from NCERT textbooks. The step-by-step presentation of answers will assist you with the right way to think about the correct answers. Eventually, if you are able to revise concepts and think of logical ways to answer questions, you'll increase your chances of achieving high scores in the exam.
3. MIQs
Just like grease in a bicycle chain, Most Important Questions or MIQs can make your JEE and NEET preparation pedalling easy and the competitive journey smoother. Instead of every question in the JEE syllabus, MIQs consist of the main questions which have high chances of showing up in your exam. With MIQs, you'll save both time and effort when checking for key questions in topics of your syllabus.
4. Mock Tests, Weekly Tests and Previous Years' Question Papers
Revise with the best solutions to questions in
JEE Main Previous Years' Papers
JEE Main Weekly Tests
JEE Main Mock Tests
NEET Previous Years' Papers
NEET Weekly Tests
NEET Mock Tests
Besides making you comfortable with the question paper pattern, these study resources have answer keys by experts.
If you track the number of questions you can solve within a stipulated time, you will be able to come up with better strategies for answering all questions correctly within the given time.
After you practise the solutions, attempt the questions with a set timer. Once the timer goes off, compare your answers and identify your mistakes. Revise once more and attempt the same questions again.
If you feel you have clearly understood the concepts, you can attempt more mock tests for JEE Main preparation. Additionally, appear for weekly tests to get comprehensive assessments. These assessment reports will guide you to improve your scores.
If you need expert video lectures or mentorship support, even that's available at your fingertips with cutting-edge solutions from TopperLearning such as JEE Webinars, Ask the JEE Expert and Ask the NEET Expert. So, make the most of the best study materials to score well in the competitive exams and fulfil your career aspirations.
Due to the current Coronavirus outbreak, the April JEE Main 2021 exam has been postponed until further notice. In this critical stage of preparation for the exams, you can study from our JEE Crash Course 2021 .This package comprises of FRM (Final Revision Module) & the Test Series, where the questions are modelled along the JEE pattern, to build familiarity with the exam and to improve your chances to clear Mains. Also for NEET study from our NEET Crash Course 2021. To learn more about this call on 1800-212-7858.
Also, learn better from our subject matter experts by watching TopperLearning Webinar on doubt clearing for exams. So go ahead and use this proven tool to crack IIT JEE 2021. Clear your doubts with the ample exam preparation resources and JEE and NEET mentorship support on TopperLearning. To know more, ask the expert to solve your doubts within 24 hours.
["source=topperlearning"]