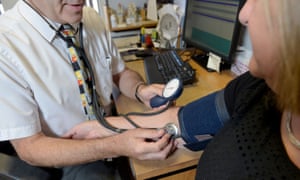 Pulse found the GP vacancy rate had increased from 2.1% to 12.2% since 2011. Photograph: Anthony Devlin/PA
Vacancies for GPs are at their highest ever level, research suggests.
A survey of 860 GPs for Pulse, a news magazine for general practitioners, found 12.2% of positions were currently vacant – up from 11.7% at the same time last year and from 2.1% in 2011, when Pulse started collecting the data.
The findings show 158 GPs (18%) have been unsuccessful in filling a vacancy in the past 12 months. In that period, the average time taken to recruit a GP partner has risen from 6.6 months to 7.4.