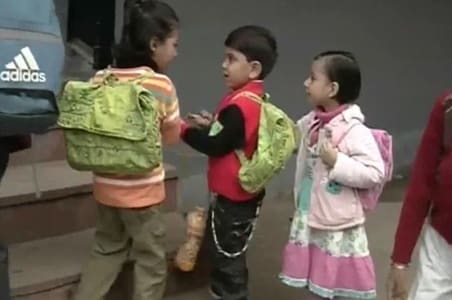 NEW DELHI: The Delhi High Court today reserved its order on pleas challenging the AAP government's order to private unaided schools to accept nursery admission forms based only on the neighbourhood or distance criteria. "It is an unprecedented hearing," was how Justice Manmohan put it while referring to the deadline before which he has to pass the order on the petitions. The court, which has reserved its decision after hearing the parties for almost a month, said that it will pass the order before the last date for submission of the forms, which is February 14.
"I do not want that kids' rights are affected adversely. As the parents will need sometime to decide after my judgement, I do not want to derail the process. I do not want anyone to be harmed," the judge said.
"This was an unprecedented hearing as I started hearing the issue without calling for the counter affidavits from the parties against whose decision these petitions were filed" the judge added.
The high court was hearing a batch of petitions filed by the parents and two school groups challenging the Delhi government's December 19, 2016 and January 7 notifications that made 298 private schools, built on Delhi Development Authority land, to accept nursery admission forms based only on the neighbourhood or distance norm.
The school groups have alleged that the Delhi government has "discriminated" among schools as the neighbourhood criteria has been applied against only 298 schools while it has not been made mandatory for the other 1,400 schools in the city.
"If the issue of children going to schools in around 1,400 schools is not a matter of concern for the government then why it is a concern for students of 298 schools. Why only 298 schools have been subjected to this kind of treatment? It is nothing but arbitrariness and discrimination," their lawyer has said.
The Delhi government, however, has defended its decision, saying that a perusal of the allotment letter "clearly and explicitly shows that lessee school had willingly accepted the terms of allotment and on the same very terms of allotment, the lessee has been enjoying the property since time of allotment".
It has said that the "lessee cannot be allowed to allege that as the word neighbourhood is not defined in the allotment letter, the meaning of the word neighbourhood as is now being defined by the Directorate of Education will not be applicable to the lessee".
The court, however, by way of an interim order had allowed the parents to fill up the application forms for the various schools based on the criteria set by them as well as the Delhi government.
Later, it had also stayed the government's notification asking private minority unaided schools to accept nursery admission forms using neighbourhood criteria.

["source-ndtv"]