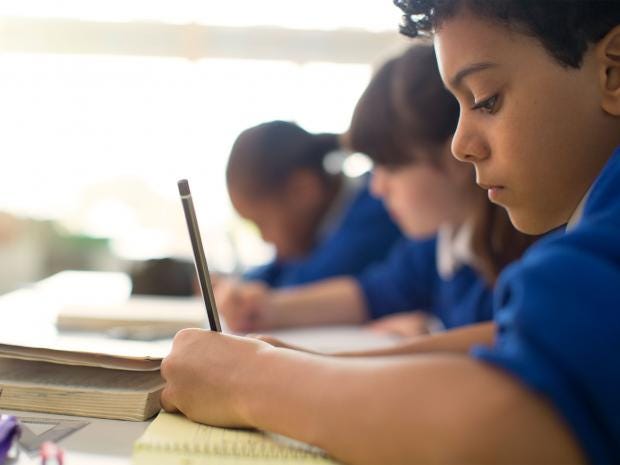 The suicide rate among primary school teachers in England is nearly two times higher than the national average, figures have revealed.
Risk of suicide among primary and nursery school teachers was 42 per cent higher than patterns in the broader population of England during the period 2011 to 2015, according to data released by the Office of National Statistics (ONS).
There were 139 suicides among teaching and educational professionals during the period, and almost three quarters (73 per cent) of these — or 102 suicides — were recorded as primary and nursery schoolteachers.
Other figures in the ONS analysis showed the risk of suicide among low-skilled male labourers was three times higher than the male national average, while an elevated risk was also detected for women in culture, media and sport occupations, which was 69 per cent higher than the female national average. Male and female carers meanwhile had a risk of suicide that was almost twice the national average, according to the data.
The striking statistics on primary school teachers come amid warnings that growing pressures in the profession — in which around 90 per cent of staff are women — have made it "one of the most highly stressed occupations in the country today", with a number of former and current teachers telling The Independent the "unmanageable" workload has caused them to develop mental health issues.
John Coe, Information Officer at the National Association for Primary Education (NATE), said the statistics were "highly worrying", adding that pressures in the sector were already a growing concern, with an increasingly "competitive structure" and growing prominence laid on national assessments.
"There is no doubt at all that being a primary teacher is one of the most highly stressed occupations in the country today," Mr Coe told The Independent.
"The impact of government policies and the maintenance of a highly competitive structure of schools — inspections, league tables and all the rest — of course leads to a lot of pressure.
"Teachers taking days off for stress has become all too common. They're all worried about maintaining a good reputation for their school and being able to meet the requirements of the national assessment procedures.
"To hear that the suicide rate is so high among primary teachers is enormously worrying and I do hope that the stats are placed on the table in front of the Secretary of State for Education."
Josie Bowler, 23, started a PGCE after graduating from her undergraduate degree in September 2015, but quit her first primary school placement — a year one class — because the pressures of the job triggered a mental health problem.
"Everything started well, I enjoyed being with the children and the other staff, but I quickly found that the workload was unmanageable," Ms Bowler told The Independent. 
"Every lesson there was some kind of assessment against whether the children had met the lesson objective. If children hadn't produced enough work or not performed at their expected level — which sometimes was unavoidable, due to things like illness or playground tiffs — there was a lot of blame placed on the teacher who taught the lesson.
"Not outwardly — it was more like an undercurrent of blame. It felt like if a kid didn't write a whole page it was my fault, and the level of mixed ability in the class meant that lots of lessons effectively had to be planned twice.
"There was a lot of pressure to get it right for every child, but that takes a lot of work."
Ms Bowler, who is now in a different job, said she began having difficulties sleeping and stopped eating properly due to the mounting stress, which also started to damage her relationships with others, and eventually led to her leaving the job and seeking mental health support.
"It got to the point where I couldn't sleep and wasn't eating well. I barely saw my family or my boyfriend. If he came round he usually got handed photocopied sheets with 'success criteria grids' or pictures of light sources and told to cut them out," she said.
"I lasted until January and then one day I had a massive panic attack in Sainsbury's. I knew I couldn't keep doing it to myself, so the next day I phoned in sick and went to the doctor.
"He signed me off immediately and said that if I had managed anther month he would have been surprised. When I told him I was a trainee teacher, he said 'ah, I thought you might be'. I got the impression that I wasn't the first to turn up at the surgery like this.
"It took me months of medication and counselling to recover. At my worst I couldn't get out of bed. I know several of my friends also quit their training or didn't apply for jobs after their training because it was so hard."
Another trainee teacher, Sophie Stone, who has been working with a year five class at a school in Buckinghamshire for two years, said she feels "constant pressure" working in an environment where children are so frequently assessed, and that it has interfered with her personal life.
"I work in year five currently and we've recently had an 'assessment week', where they completed six assessments in total varying between 40 minutes to one hour each," Ms Stone, 24, toldThe Independent.
"It was clear to see the panic and worry in those children who are regularly heavily supported by a teaching assistant, now having to complete something that is unsupported and entirely their own, independent work.
"I've had children who have said to me they're scared of leaving year five because they think their SATs will be so difficult. It's far too much pressure for children of such a young age.
[Source:- Independent]