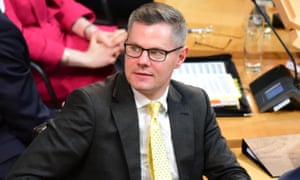 Teachers in Scottish schools are to strike over pay, increasing pressure on Scottish ministers to offer public sector workers an above-inflation pay rise.
The NASUWT said teachers at three secondary schools in Glasgow would go on strike for one day next week, followed by strikes at three more secondaries in East Dunbartonshire a week later.
The strikes follow warnings from the civil service union PCS that it would call for strike action unless the Scottish government offered an above-inflation salary increase in December's budget.
PCS said earlier this week that 99% of its members supported holding a strike ballot in a consultative vote last month, on a record 49% turnout. The union, which has 8,000 members in Scottish government-funded posts, wants UK, Scottish and Welsh ministers to offer significant pay rises in their respective budgets.
The NASUWT said teachers at Scottish primary schools would strike in the new year. Its members had not had any pay awards since April 2016 and this year's award was six months overdue.
"Escalation of action, in one form or another, will now continue until the government is willing to discuss meaningfully with the NASUWT solutions to the crisis in teacher pay, workload and morale," said Chris Keates, the union's general secretary.
A government spokeswoman said: "NASUWT's decision is deeply disappointing. Industrial action is not in the interests of anyone, least of all pupils and parents. What's more, teacher pay negotiations are currently under way with local councils, as the employer, and the Scottish government is fully involved. To strike while these talks are continuing is not appropriate."
Derek Mackay, the Scottish finance secretary, and Nicola Sturgeon, the first minister, have promised they will lift a long-standing pay cap of 1% on all public sector employees next year but, to the frustration of union leaders, have refused to offer further details.
Mackay said the size of a deal for Scottish public sector workers, including police officers and nurses, would depend heavily on whether Philip Hammond, the chancellor, increases public sector pay in the rest of the UK in his budget on 22 November.
If Hammond increases NHS pay in England, and reduces his government's planned spending cuts, that will increase Scotland's block grant from the Treasury. PCS leaders are meeting Mackay to press for an above-inflation rise a week after Hammond's budget and two weeks before Mackay unveils his spending plans for Scotland.
However, public spending experts say Mackay's dilemma is largely due to the Scottish National party's promises to increase NHS spending by £500m above inflation by 2021, alongside other election pledges.
Government spending in Scotland is £1,460 higher per head than the UK average, but inflation is now rising, which will increase the costs of the NHS spending pledge, squeezing money available for other areas.
Economists at the Fraser of Allander Institute forecast the NHS pledge would require cuts of 20% in other areas. A 3% across-the-board pay rise would cost about £400m.
Scotland's economy is growing more slowly than the rest of the UK's, which may cut income tax revenues. Sturgeon has offered to increase some tax rates in Scotland, partly to plug the spending gap.
The NASUWT is the smaller of Scotland's three teaching unions but the dominant union, the Educational Institute of Scotland (EIS), said it was also urging Scottish ministers to offer a fair pay increase.
"While the promised lifting of the public sector pay cap next year offers some hope for a better offer from employers, industrial action by EIS members remains a distinct possibility in pursuit of a fair pay settlement," an EIS spokesman said.
Source:-theguardian