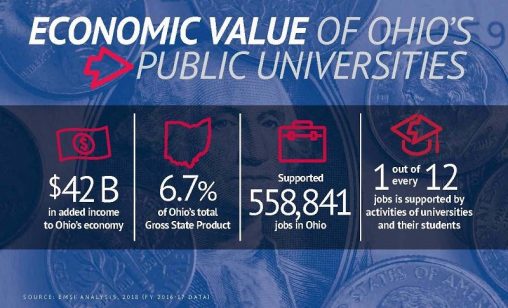 Ohio's public universities, their students, and their statewide alumni added $42 billion in income to the state economy in 2016-17, according to an economic impact study conducted for the Inter-University Council of Ohio.
The universities' economic impact represents 6.7 percent of Ohio's total gross state product and supports 558,841 jobs, which means that one of every 12 jobs in Ohio is supported by the activities of public universities and their students.
The University of Toledo conducted an economic impact study in 2017 that estimated UT's contribution to northwest Ohio at $3.3 billion annually, which is 9.7 percent of the area's gross metropolitan product. UT directly generates more than 5,000 full-time jobs, and economic activity by the university supports more than 8,000 additional jobs.
["Source-toledoblade"]