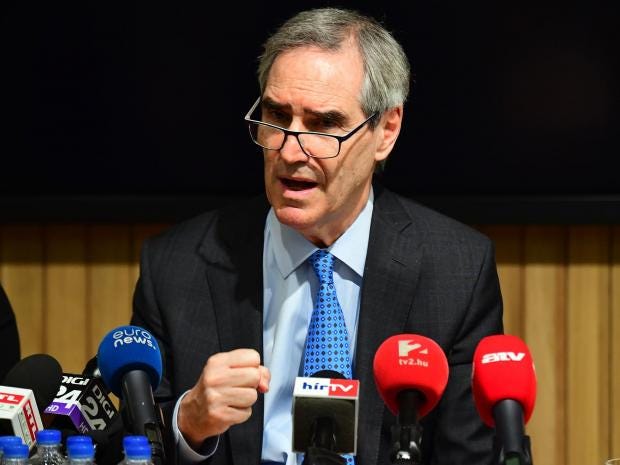 UK universities must push back against Theresa May's crackdown on international student numbers, the president of Europe's top international university has said.
Professor Michael Ignatieff, president and rector of George Soros's Central European University (CEU) and the former Canadian Liberal Party leader, warned the British Prime Minister must learn from political unrest taking place in Hungary and ensure the rights of students and academics are upheld post-Brexit.
In an interview with The Independent, he said tightened visa controls presented a direct threat to academic freedom, along with the "political correctness" stifling freedom of speech on modern campuses.
His comments come amid increasing pressure being placed on the British Government to remove foreign students from immigration figures and abandon plans to tighten restrictions on student visas.
Supporting the Drop the Target campaign led by The Independent and the Open Britain group to persuade the Prime Minister to scrap her goal of reducing net migration figures, the university leader said educating foreign students is "one of the greatest things that the UK does".
"Any university has to be respectful of a sovereign state's right to review all people coming into the country on security grounds. No university can contest that," he said.
"The issue is when governments start to use visa scrutiny as a way of abridging the freedom of universities to recruit who they want.
"If you ask what's a live in academic freedom right now, visa controls is one of them. We all need to be aware of that."
Prof Ignatieff's comments come at a time of great uncertainty for his Hungarian-based international university.
Earlier this month, tens of thousands of people took to the streets of Budapest in protest against new legislation that could force the CEU – founded by billionaire philanthropist George Soros – to close its Hungarian campus.
A bill passed in parliament by the ruling right-wing party targeted the university by setting out a number of tough new measures for foreign institutions in the country, it has been claimed.
Speaking to The Independent, however, the CEU rector said the university would close "under no circumstances".
"But the problem is we are faced with legislation that could make it impossible to continue functioning," he said. "One of the restrictions potentially relates to visas for students."
Home to students from 120 countries, CEU is one of the most diversely populated universities in the world, and was just this week named by Times Higher Education as the second most popular institution for international students.
Around 100 refugees and asylum seekers are educated at CEU each year, but the university cannot and does not offer education services to anyone residing in Hungary illegally.
Last month, the government passed strict new laws allowing all asylum seekers to be detained, however, as part of a crackdown on immigration.
"What is concerning us is those who are waiting to have their asylum claims heard being camped," said the professor, himself born in Canada to Russian refugees.
"The direct implication to that is we are not yet clear as to whether we can still have access to them to continue their learning," he said.
While international states should reserve the right to assess people coming into the country, he said, visa controls are a "balancing act" and run the risk of being used as a vehicle for social or racial selection.
Citing US visa restrictions put in place this year, he said: "You don't want to slide into a situation where the [Government] is basically using that as a throttle to say, 'we're not going to take Muslim students in' or whatever".
"There are lessons for Britain – Britain will have to balance border control with obligations under the refugee commission.
"One of the greatest things that the UK does is educating foreign students," he added.
"It's just a matter of getting the balance right and for a university to push back when they get a sense the Government is beginning to use the student visa controls as a throttle.
"When they do that they are abridging the academic freedom institution."
Prof Ignatieff is currently in the UK to launch a pioneering programme offering free degree courses to refugees and asylum seekers.
Much like the CEU, the future of the scheme – known as The Open Learning Initiative – remains unclear, however, since its funding comes from the EU-funded pan-European Erasmus programme.
Speaking to The Independent at the University of East London, where the course is based, Prof Ignatieff said he had "some concerns" about the future of British universities post-Brexit.
"When Britain leaves the EU it may well be cut off from crucial sources of European research funding," he warned.
"Labour has called for Britain to remain in the Erasmus programme. I think it's right – British universities are European universities as far as I'm concerned.
"Whatever happens with Brexit, universities should keep doing this.
"We are very anxious that UK universities not be cut off from Europe. Institutions are squirming about this and they're right to be," he said.
"Thank god research doesn't care about frontiers. It would be terrible if Britain was cut off from all of that."
Agreeing that there was a responsibility on Ms May to ensure academic freedom of movement is protected, he said: "These are the chickens that are coming home to roost. I understand why people voted for Brexit but these are some of the really negative consequences.
"Britain is a scientific and research powerhouse and anything that anything that reduces its capacity to be in partnership with Europe weakens Britain and also weakens Europe."
[Source:- independent]