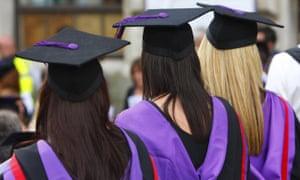 Graduates with student loans in England are saddled with up to £16,000 more debt because of the government's use of an unreliable inflation measure to set interest rates, according to research from the House of Commons library.
The analysis, provided to Labour's shadow Treasury team, shows that the use of the retail prices index (RPI), a measure criticised by the Bank of England and the Office for National Statistics, adds the most interest to the debt of the lowest-paid graduates.
While the Bank of England's target inflation rate is the consumer prices index (CPI), the student loan interest rate is linked to the older RPI, which has recently run at a higher rate than the CPI.
"The Conservatives are rigging interest rates to ramp up costs for students. It's not enough that they've saddled graduates with an average of £50,000 in debt, they're now charging an additional £16,000 on their loans," said Peter Dowd, Labour's shadow chief secretary to the Treasury.
The figures are likely to increase the pressure for student loan interest rates to be overhauled when the government's independent panel on post-18 education and funding issues its report later this year.
The analysis comes as new forecasts from the Department for Educationshow that student loans of all types in England are likely to hit £15bn in 2017-18, in part because of the ending of maintenance grants and nursing bursaries. The DfE's forecasts also show student loan outlays hitting £20bn a year by 2022-23, despite a predicted fall in student numbers.
Students enrolling in university courses this autumn will see the biggest increase in the total loans taken out, with a rise of 10% in 2018-19, followed by a further 7% in 2019-20.
"The majority of this forecast increase is as a result of several changes made to the student loans policy by government," the DfE analysis notes.
"In particular maintenance grants were replaced with maintenance loans for new entrants from academic year 2016-17, and new nursing, midwifery and most allied health entrants from 2017-18 became eligible for student loans for financial support in place of receiving NHS bursaries."
The forecast also says that just 30% of those who entered full-time higher education this academic year are expected to repay their student loans in full by the time they are written off after 30 years. Around 45% of the remaining loans will be picked up by the government under the guise of a "resource accounting and budgeting" charge.
Labour will be keen to return to the attack over student loans, with Dowd reiterating his party's pledge to abolish tuition fees and calling for CPI to replace RPI on existing loans.
Interest on post-2012 student loans in England is calculated using RPI as a base rate, with interest rising up to RPI plus 3% for those earning more than £41,000 a year. According to the Office for Budget Responsibility, RPI is forecast to be 1% higher over the next five years than CPI.
The House of Commons analysis finds that switching to CPI would result in £16,000 less interest being added over 30 years to the debt of graduates who never earn above £25,000 a year, and similar amounts for other lower-earning graduates.
Dowd pointed out that in 2011 the government dropped RPI in favour of CPI for uprating public sector pensions. "The government is cherry-picking inflation measures to maximise profits. They've used one measure to cut workers' pensions and another to drive up student debt, simultaneously robbing the old and the young," he said.
Meanwhile, students leaving university appear to be finding it easier to win graduate-level jobs.
Of those graduating in summer 2017, 5% were unemployed six months after leaving – the same rate as the previous two years, according to figures from the Higher Education Statistics Agency. But the proportion of full-time first-degree graduates in UK employment entering professional jobs rose to 74%, compared with 71% the previous year. Men saw their average pay rise to £24,000, while female graduates remained at £22,000.
["source=theguardian"]